Inside this issue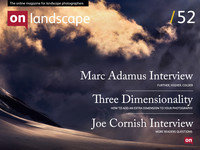 Camera Colour – First Tests
Equipment Reviews
Variation in Camera Colour Rendering
Tim Parkin
Your humble editor, ex-mathematician, A&R for U2, web developer to the Queen, guitarist and general geek-boy.
Other articles by Tim Parkin
I've written about sensor colour in a previous issue of On Landscape under the title "The Myth of Universal Colour". In that article I looked at the quite common preconception that if different cameras create pictures with different colours then these can be easily corrected in Photoshop.
To recap the reasoning you need to know that 'colour' is a perceptual construct (i.e. it gets made up in our heads) which means that the colour red is not a property of an object but a property of the combination of the light hitting an object, the object itself and the combination of the 'sensors' (e.g. rods and cones in the eye).
Light is actually a spectrum of lots of different frequencies or colours of light. (e.g. the suns colour is made up of a full rainbow of colours). You can imagine it's like a paint mixing set. You can get a green colour by starting with a green pigment or you can mix a green pigment by starting with a blue pigment and a yellow pigment.
Tim Parkin
This article is open to paid and unpaid subscribers so requires at least a
free
subscription to access. Please take a look at the
subscribe
page for more information.