Inside this issue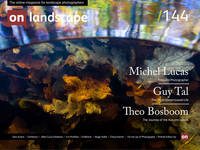 Subscribers Only
Subscribe
All of our subscription packages give access to every article published for as long as the subscription is in place. This includes back issue content amounting to over one hundred full length articles. In order to subscribe to the magazine for free or paid subscriptions, you should use the register page first. Once you have registered, come back to this subscribe page and the PayPal links will be shown.
And don't forget, if you register for a year you save 33% over the price of paying once every two weeks.
Alternative payment methods
We know PayPal isn't the perfect platform so if you really don't want to use it you can subscribe via creditcard, cheque or bank transfer.
Credit card
Please click on the subscription you wish to take out and complete the credit card transaction. Once completed we will manually update your account for you.
Annual Subscription - £59
6 Monthly Subscription - £38
Quartlerly Subscription - £19
Cheque
Please mail a cheque (made payable to Landscape Media) and subscription choice (along with email address and contact details so we can contact you if there are any issues) to:
Landscape Media Ltd,
Mheall Mhor,
Brecklet,
Ballachulish,
Argyll,
PH49 4JG
Bank Transfer
You can also pay by bank transfer (BACS), so please email payments@onlandscape.co.uk for details.
Subscription FAQs
If you have any problems or questions about your subscription please check our FAQs section or call us on 01430 827 408 or email support@onlandscape.co.uk and we'll do our best to help or provide alternative arrangements.
If this page doesn't change once you have registered and logged in you could try this page instead.
Here are the prices but you need to
register your username and then log in
before taking out a subscription..
Ongoing/Recurring Subscription : Bi-weekly
This subscription is £4 every two weeks until cancelled
Ongoing/Recurring Subscription : Quarterly
This subscription is £19 every quarter until cancelled
Ongoing/Recurring Subscription : Yearly
This subscription is £59 every year until cancelled
HELP!
Please, please call us if you have problems with this process. You can call us on 01855 811 799 or drop us an email on charlotte@onlandscape.co.uk and we'll get straight back to you