Inside this issue
sponsored by ..

Viewpoint
Editor's Letter
editor@onlandscape.co.uk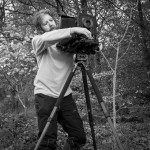 Film and digital - surely we're all over the competition now and digital has won. Hasn't it? Well - yes for most purposes the use of film can be described as anachronistic but just as the competition between the horse and the car was over more than a century ago, people still use horses for pleasure (getting from A to B isn't the be all and end all) but also for niche conditions where cars are impractical. Film is the same - quite often people will use film cameras because it gives them more pleasure, even given the many disadvantages. However there are also places where film can give real advantages over digital. In other words film isn't as dead as the mainstream magazines would have you believe (a skewed arena in many ways as there is virtually zero advertising spend on film related activities).
So alongside our usual rich content we'll be looking at why and how people are using film and just what to expect out of it. To begin with we thought we'd have a look at just what quality you can expect out of a well exposed piece of film. We've looked at large format previously in our Big Camera Comparison and in this issue we take a look at how medium format film stacks up against the current 36mp sensors. The resulting article was published on Petapixel and created a little fuss (to say the least). However, we're an equal opportunity magazine and love the best that film and digital have to offer and hope we don't have to make a choice for a long time yet.
Tim Parkin