Inside this issue

Subscribers Only
sponsored by ..

Viewpoint
Editor's Letter
editor@onlandscape.co.uk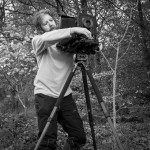 If you were to only read the vast swath of printed photography magazines you would be forgiven for thinking that the world of photography was limited to digital photography. However, it is worth remembering that this perception is a distortion of reality, influenced by the advertising funding without which most magazines would be unable to function.
In reality, there is an obscure underbelly of photographic practice that (mostly) keeps itself to itself. This includes pinhole photography, film photography, polaroid and a whole swath of historical practices. These processes also have the opportunity for the photographer to 'interfere' with the process, something quite difficult with the obscurity of the innards of the digital camera. This opportunity allows the production of work that holds an echo of the artist's hand beyond there choice of location, composition and post-processing.
Neither better nor worse than conventional photography, after all, there is an infinite opportunity for expression within digital work, it would be sad if these approaches were ignored. Even if the photographer were not interested in exploring these modes of expression, it would be hard to gain nothing from an increased awareness of them. In this issue, we include three articles looking at wet plate photography, one of the earliest forms of photographic expression, and why it has become so popular over 150 years after it's death.
Click here to download issue 163 (high quality, 184Mb)
Tim Parkin
Content
Issue One Hundred and Sixty Three