Inside this issue
sponsored by ..

Viewpoint
Editor's Letter
editor@onlandscape.co.uk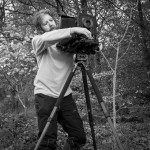 Autumn has hit in full force here in the UK but unfortunately so has the remnants of hurricane Gonzalo. Our editor is currently in the West of Scotland in a permanent state of getting wet and drying out but despite the rain and wind there are still possibilities (even if it comes down to sticking the lens of the 10x8 camera out of the window of the campervan!).
The colours in Scotland are beautiful and definitely peaked in the last week so I imagine England will be peaking in the next week too so look up your local woodland or arboretum for some autumnal colour. We've got some autumnal articles for you this issue too with a look into the science of autumn and some comments on autumnal colour from the England and the Swiss Alps.
We've also had a few comments about the PDF download being a bit slow to download. This isn't because the server has got slower, it is because we noticed that you couldn't zoom in on the smaller pictures. We've rectified the problem but it means the PDF has gone back up in size to about 40Mb.
For those in the Northern hemisphere we hope you have some great seasonal colour and the leaves don't all drop off too soon!
Tim Parkin
Content
Issue Eighty Three