Inside this issue

Subscribers Only
sponsored by ..

Viewpoint
Editor's Letter
editor@onlandscape.co.uk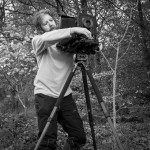 Although lockdown has limited On Landscape's ability to run the Meeting of Minds conference, the extra time that this has created has been put to good use, not only in setting up the Natural Landscape Photography Awards (whose submission deadline arrives at the end of this month) but also in building a small darkroom in the On Landscape office.
The far room in the office has always been meant as a darkroom, but getting the time and money together for plumbing, water heaters, filters, thermostats, waste piping etc has been difficult. However, we're nearly finished now and I just have one final job to do ... the pressure testing! However, after flooding two previous houses with my darkroom antics, this shouldn't be underestimated. I might just drill a big 'calamity drain' in the floor, just in case.
Coincidental to this, Joe Cornish also gave me a couple of his old medium format cameras on long term loan. They're Horseman SW612 bodies, with 45mm and 65mm lenses and 6x12 and 6x9 backs, which are stunning little cameras that I'm really looking forward to taking into the hills.
One of the goals of the darkroom is to make piezography digital negatives from film scans (and digital files) in order to contact print using "alternative" methods (Platinum Palladium, Van Dyke, Cyanotype, etc). I'll no doubt keep you posted here with the first results.
Tim Parkin
Click here to download issue 236 (high quality, 157Mb)
Tim Parkin
Content
Issue Two Hundred and Thirty Six