Inside this issue

Subscribers Only
sponsored by ..

Viewpoint
Editor's Letter
editor@onlandscape.co.uk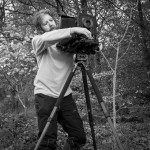 A few people have been asking me whether I use my large camera much anymore and I have to admit that I haven't. This has been mostly because I've been so slow getting my darkroom plumbing sorted out but also because my trips out have been walking in the mountains, which haven't been as conducive to finding and taking pictures and as such the weight penalty of large format gear has deterred me.
However, with the darkroom nearly complete, a colleague, Michel Lucas, mentioned that he'd bought a large format camera and I suggested I could give him a free lesson as a warm-up for some large format and film-related workshops I'm planning in the near future.
Michel was a fantastic student, and it was a good job as I think I tried to decant a decade worth of large format learning in a single day! Fortunately, we were blessed by wonderful weather, for selfies at least! Michel was also there for one of our community talks which I gave with David Unsworth on "film is not dead and self publishing" where we launched our book project on walks on Bidean nam Bian - more about that later!
Click here to download issue 251 (high quality, 151Mb)
Tim Parkin
Content
Issue Two Hundred and Fifty One