Inside this issue

Subscribers Only
sponsored by ..

Viewpoint
Editor's Letter
editor@onlandscape.co.uk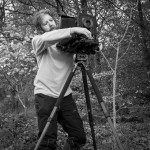 We've been having an extended period of high pressure here in the Highlands which has meant sunny weather and relatively warm conditions for the time of year. It has also bought with it some amazingly hazy conditions which was shown to great effect on a couple of walks up hills near our house over the last few weeks. At times we could hardly see the mountains over in the next valley, despite having clear blue skies above us. In the photograph below, looking down from Garbh Bheinn near Kinlochleven, I can see a sense of the light that perhaps the Hudson River School artists saw, particularly in some of Albert Bierstadt's paintings, or possibly similar light as in Turner's exquisite Rigi paintings from Lake Lucerne.
There's no walking in the hills this week though, as the dreaded Covid has finally found its way to the back of Ballachulish (to our house anyway). However, it gives me some time to start researching the Dutch Golden Age so that I can continue the series on the history of landscape painting and do a little more work on the darkroom.
Tim Parkin
Click here to download issue 252 (high quality, 143Mb)
Tim Parkin
Content
Issue Two Hundred and Fifty Two