Inside this issue

Subscribers Only
sponsored by ..

Viewpoint
Editor's Letter
editor@onlandscape.co.uk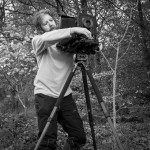 It's been a mostly DIY couple of weeks up here in the Highlands. I've been building a second shed in order to clear space in the "On Landscape" shed to allow me to create better videos and also to develop a dark room (see what I did there!). That doesn't mean I haven't been out and about though. Robert White have sent over two samples of a re-release of a pair of classic Cooke lenses, the PS945 (a soft, glowy focus portrait lens on 5x4 and an incredible fast wide on 10x8!) and the XVa which is a triple convertible like Ansel Adams used on his 10x8. I'll write more about them later but it was great to get out with a large-format camera again. As part of the testing, we also met up with Michela Griffiths who runs our featured photographer column. We spent a great day out and about at the top end of the Kintyre peninsula.
We should also add some apologies for our website running very slowly for some reason. We optimised it for speed early in the year but something in a WordPress upgrade has slowed things down dramatically. We'll be rewriting the theme over the Christmas/New Year period and also changing the mobile theme (which wasn't working very well). Thanks for bearing with us while we do this. Once complete, the website should be extremely fast as we now have a top-end dedicated server to run everything on.
In the meantime, it's good to know that the PDF doesn't rely on the WordPress theme and hence is fast to download and easy to use once you have done so.
Click here to download issue 196 (high quality, 110Mb)
Tim Parkin
Content
Issue One Hundred and Ninety Six