Inside this issue

Subscribers Only
sponsored by ..

Viewpoint
Editor's Letter
editor@onlandscape.co.uk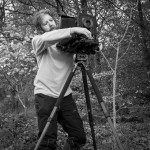 At the end of September, Charlotte and I drove to Joe Cornish's studio in Northallerton, Yorkshire, to help with a joint exhibition between Joe and David Ward. When I say help, I actually just mean to waffle a bit at the audience before and after the talk just to show how much better they are at public speaking! There were many familiar faces at the gallery, and it was great to catch up with people we've not seen for quite some time. We also went down to record the event (with the assistance of Alex Nail), which will be a lot more interesting to you readers as we're going to get the video ready for the next issue!
The exhibition is titled "Creative Parallels," and it gives the opportunity for Joe and David to compare and contrast their work over the years and explore some of the common themes and ideas and how they approach them in their own unique ways. The exhibition will run until the end of the year and is well worth a visit if you are near and keep an eye out for the video!
Click here to download issue 287 (high quality, 150Mb)
Tim Parkin
Content
Issue Two Hundred and Eighty Seven