Inside this issue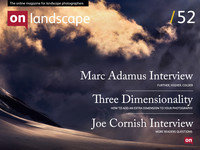 David Chalmers in Conversation with Joe Cornish
Tim Parkin
Amateur Photographer who plays with big cameras and film when in between digital photographs.
David Chalmers, a product photographer who specialises in the drink industry, is also a landscape photographer and Joe Cornish recently interviewed him at the Woodend Creative Workspace. His recent work, and the major topic of the talk, is the use of carbon printing but with the extra twist of making the photographs from wood sourced from the copse that the photographs were taken in. We also asked David a few questions which are included below the video including some of his images.
We're hoping to get to meet David and perhaps get a demonstration of the processes for On Landscape at some point and perhaps some more on location video. Until then..
Here is the 1Mbps version (click here for iphone/ipad version)
and here is the 150kbps version (click here for iphone/ipad version)
Or if you are on a slow iPhone/iPad connection you can try a lower bandwidth version by clicking here
Or download the video using these links. Right click the link (or ctrl-click on a mac) and us 'save as' :-
Tim Parkin
This is a premium article and requires a
paid
subscription to access. Please take a look at the
subscribe
page for more information on prices.