Inside this issue

Subscribers Only
sponsored by ..

Viewpoint
Editor's Letter
editor@onlandscape.co.uk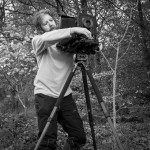 After David O'Brien's wonderful article "In Praise of Film Pinhole Photography" in the last issue, I was inspired to get out and play with a pinhole camera myself. Instead of buying a new camera, I figured I could use a pinhole on my existing cameras (large format and medium format). However, when it came to buying a 'pinhole' I was faced with a decision of which size to purchase. Being the geeky sort I figured it would be interesting to get hold of a range of pinholes and test just what difference the sizes made. What surprised me more than the results was what fun it was and how playing was also a part of this photography thing. A big thanks to Tim Norgate from Pinhole Solutions for sending me over a set of different sizes. Now I've got the experimenting out of the way it's time to have a play with the results on film and I look forward to showing the results in a future issue!
If you've been playing with pinhole or have been using it for a while, please show us your results on our Facebook page.
Click here to download issue 143 (high quality, 195Mb)
Tim Parkin
Content
Issue One Hundred and Forty Three